Pumpkin Pecan Squares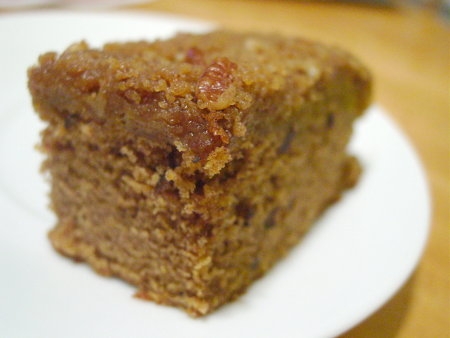 Robin has been taking cooking classes at our local Williams-Sonoma store. She is inspired by the store's quick bread mix (dry mix of flour, sugar, pumpkin, pecans, cinnamon, buttermilk, salt, sodium bicarbonate, ginger, nutmeg) and samples of their fresh-made coffeecake to create this version of a breakfast/dessert item. Combining store-bought mixes with pantry staples creates a luxurious treat – pumpkin bread on the bottom layer followed by a gooey pumpkin butter layer and topped with a brown sugar streusel.
Ingredients
We start by preheating the oven to 350° F. Next we line our 9×13 inch casserole with foil and then parchment (we don't like the foil to touch the food) and then spray with nonstick vegetable spray.
In a large bowl, we combine the ingredients for the quick bread according to the package directions (this mix calls for adding water, butter, and 2 eggs) and then pour into the prepared pan, scraping as much of the batter into the pan as possible.
Without washing the bowl, we combine the pumpkin butter with the heavy cream and 2 eggs. When well-mixed, we spread this mixture on top of the pumpkin bread batter.
In another bowl, we combine the brown sugar, flour, cinnamon, and a small pinch of fine salt. We add the butter and cut in with our pastry dough blender until the butter is throughout the mixture and we have pea-sized pieces of topping. The pecans are then mixed in with well-cleaned hands and the mixture sprinkled evenly on top of the pumpkin butter layer.
The casserole is baked for 40 minutes in the middle of the oven. We check for doneness and give it another 10-15 minutes. We want a toothpick inserted in the center to come out clean.
We remove the pan from the oven and let cool on a wire rack. Then we cover well with plastic wrap.
When ready to serve, we lift out the cake using the foil and parchment and cut into squares to enjoy.