Mini Chocolate Cupcakes with White Chocolate Chips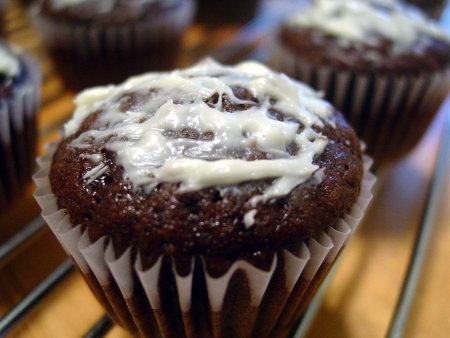 This easy recipe for chocolate cupcakes is fun to make with kids. With white chocolate chips inside and melted on top, it is also quite yummy. The kids measure all the ingredients themselves—sifting the dry ones, whisking the liquid ingredients, and combining everything—no mixers or creaming of butter today! It is adapted from a wonderful cookbook by Barbara Grunes, "The Best Bake Sale Ever Cookbook."
Ingredients
1

cup

all-purpose

flour

½

cup

white, granulated

sugar

¼

cup

unsweetened

cocoa

(Hershey's)

1½

teaspoons

double-acting

baking powder

½

teaspoon

ground

cinnamon

1

large

egg

⅓

cup

canola

oil

10

tablespoons

whole

milk

1¼

teaspoon

extract

vanilla

½

cup

white chocolate chips
We start by preheating the oven to 400° F. We put 24 mini cupcake papers into our mini muffin tin.
We put a sifting strainer in a large bowl. We add the flour, sugar, cocoa, baking powder and cinnamon then sift.
Into a small cup we break the egg and whisk with a fork. In a 2-cup measuring cup we add the oil, milk, egg, and vanilla. We stir the liquid with the fork and then stir in the liquid ingredients to the flour mixture with a rubber spatula. We are careful to "just" mix it in and not to overbeat.
Then, we stir in the white chocolate chips. We use a small cookie scoop to fill the cupcake paper—2 scoops per cupcake. We want the muffin cup less than three quarters full.
We bake in the oven for 15 minutes, rotating the pan halfway for even cooking.
When a toothpick in the center of the cupcake comes out clean, we remove the pan to a cooling rack.
As soon as the pan is on the rack, we top each cupcake with 2 white chocolate chips and let sit for 5 minutes. Using a toothpick, we lightly spread the melting chips over the cupcake to make a drizzle. Then we remove each cupcake from the pan to cool completely on the wire rack.