Welcome Guests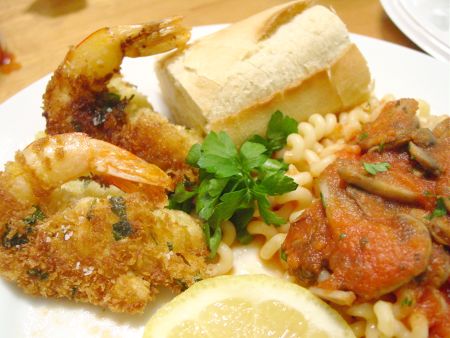 Back in the day, Sarah would make a weekly dinnertime visit. Job and child have necessitated that those visits could not continue, but tonight we get a visit from both Sarah and Olivia. We serve fusilli with a mushroom sauce and some fried shrimp to mark the occasion.
We count ourselves lucky living so close to family. Even though we do not see them as much as we might like, we do get to visit rather often. We owe a debt to the exam week gods who give Sarah some extra time this week. Sadly, the architecture gods operate on a different schedule than their exam week brethren – Eric was not able to come along because he needed to work.
Robin has been looking for an excuse to make a paella, but thought better of making one tonight. Sarah's rather finicky taste buds would have suffered paella, but we want her to enjoy – not suffer. Instead we prepare a relatively conservative meal, built around fusilli with a mushroom tomato sauce. We do get a little "crazy" by adding a new dish to our repertoire tonight – fried shrimp. We are very grateful to have added the shrimp, which are delectable – crispy outside and perfectly juicy underneath the breading.
Olivia, not much for eating such foods just yet, seemed to enjoy the antics of her older cousins, who were more than happy to show off. After dinner, our kids played with Olivia's toys, while Olivia explored their toys. We got to bed late, but no one minded that we could not read many books tonight.