What to Eat When in Labor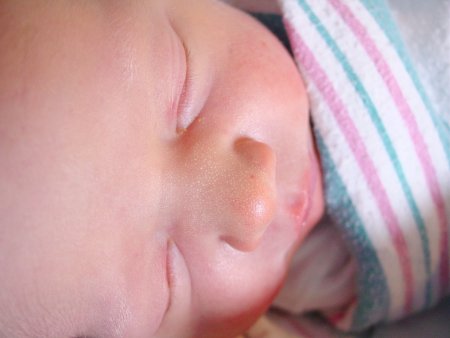 And finally, the big day arrives. After the last time around, we were very much concerned that this birth would prove similarly exciting. Happily, it was all very dull (well, relatively). Of course, it all started with a quick meal.
By the way, the answer to the question posed in the title of this meal is that you should
not
eat when in labor. The only reason that Robin had a snack was that we were not at all sure that she was in actual labor. Also she was very hungry. So she enjoyed one of her favorite snacks – waffle with peanut butter (and a few other healthy toppings).
After driving around a bit, we went to the hospital. Initially, it seemed that we made the trip in vain. Robin's contractions stopped for quite some time and we feared that we would be sent home. Our concern was for naught and, six hours later, Greta Elizabeth came into the world. We are very tired (mostly Robin), but very happy. Mostly we are grateful that Greta was born healthy and under relatively controlled circumstances.
Greta gets her name from her big sister and her Great-Great-Grandmother. Our daughter liked the name and it had the same meaning (light) as the names of her older brother and sister. Elizabeth was Great-Great-Grandma Sconzo's name.
No doubt we are in for quite a period of adjustment and we're eager to get started.