A Friendly Game of Spades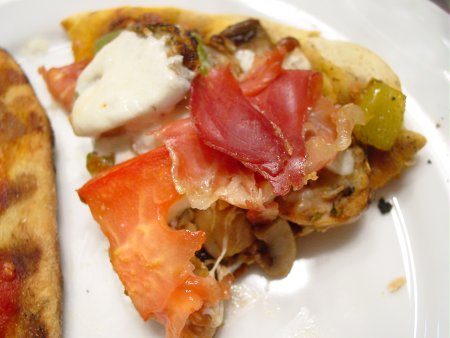 Tonight, we continue a little family grudge match. This particular grudge has hung over since New Year's Eve. It's spades. Sarah and Robin vs. Eric and Chris. But first, we feast.
We thought it would be nice to serve grilled pizzas. That would give everyone a chance to choose their own toppings, which is especially nice with kids about.
Unfortunately, the weather turned cold—too cold to have people outside. After a little trial and error, we found that grilling the dough, and bringing the crust inside for sauce and toppings worked well. Then we put the pizzas into the oven to finish cooking. All in all, we were pleased with the meal. We had the grilled taste in the pizza crust and the pizzas were served hot.
The cousins had a wonderful time playing the night away. They each did a good job eating pizza. They also enjoyed the brownies that Sarah brought over. After dinner and dessert, we put all the kids to bed and got down to the very serious business of spades.
The men handily won the first two games, though the ladies were leading the last round by 100 when we had to call it a night.
Robin made vodka martinis and cosmopolitans which were very good. They were so good that we may have to add a drink section to the cookbook.
The crab dip that started the evening was exceptional—some of us almost made an entire meal out of it. Dinner and dessert were excellent as well. But we mostly enjoyed the company and look forward to doing this again soon.