Buffalo Chicken Dinner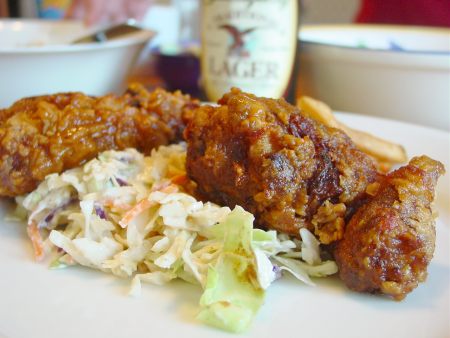 We transform our dinner table into a greasy spoon. A greasy spoon with crispy, juicy, hot buffalo-style chicken. And fries. Of course there were fries.
Chris ate way too much, but can you blame him? This was good eating. Even the one batch of chicken that cooked a little long was still delicious.
As is proper with any fried chicken meal, we served fries and coleslaw on the side. The fries were greasy authentic—they were leftover from dinner with Grammy and Erin at T.G.I. Friday's. Re-heating the fries in the toaster oven worked quite well.
The kids did not enjoy the chicken quite as much as did the adults, so they had other leftovers in addition to the meal. Our son did eat the blue cheese sauce that we served along with the chicken. He ate it straight. And he ate several helpings. You never can tell with that boy.