Bagels and Eggs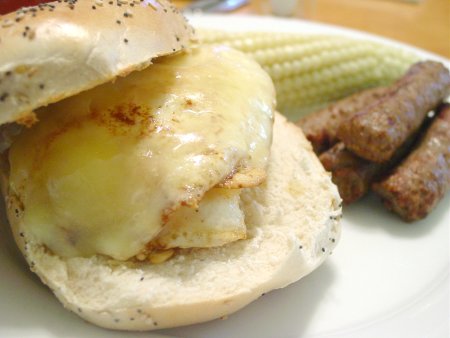 A weekend visit to Brooklyn netted us a bunch of bagels. We gave some to Mr. Barry (who loves New York bagels), some to Boppy (who loves poppy seed bagels). The rest we put to good use—dinner tonight.
Nanny and Gramps very much wanted to come to visit us two weekends ago, for our daughter's First Communion. But, at 90, travel is a daunting prospect. So, on Saturday, we took the first communion to them (at least the first communion dress).
The whole family had a great time visiting with them. The kids enjoyed showing off for their great grand parents. Nanny and Gramps especially enjoyed spending time with the baby who is the very definition of "a corker", as Nanny likes to say. Aside from the visit itself, the trip was uneventful. Crackerbarrel couldn't serve us. The baby was so tired that she feel asleep within a block of leaving. We are still recovering a bit from the trip. Eight hours of driving, even three days removed, takes a lot out of us. So it is nice to have the bagels to not only provide us sustenance, but to also remind us why we make the trip.