2.5 Leftover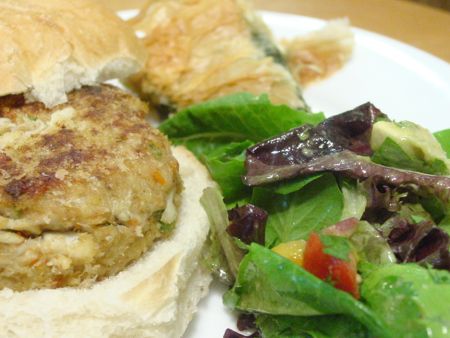 We host a big crowd tonight—Erin, Sarah, Eric and the little ones all come over for a family dinner and a game of cards.
Inspired by one of her many cookbooks, Robin serves up a two-dish main course—spinach pie and crabcakes. The crabcakes were so packed full of crabmeat that no one could have more than one, leaving us with two and a half leftover. Most of us still had a small slice of the spinach pie—it was good enough (and still light enough) to over-indulge.
The kids had hot dogs and tried bits of the food that everyone else ate. They did not eat much, so excited were they to get back to playtime. All of the children did a wonderful job on dessert. We can always count on them for that. Sarah supplied the cupcakes, which were fantastic, made all the better by substituting applesauce for oil in her recipe.
After our last card night, we tried sleeping our daughter and Olivia in the same room. We hoped that the eldest cousin might be a calming influence for Olivia who was too uncomfortable last time to go to sleep. Unfortunately, Olivia was too comfortable tonight—she talked with her older cousin for over two hours straight before our daughter came down complaining that Olivia would not let her sleep.
Chris was winning, but this was a good time to finish dinner.