Baked Quesadillas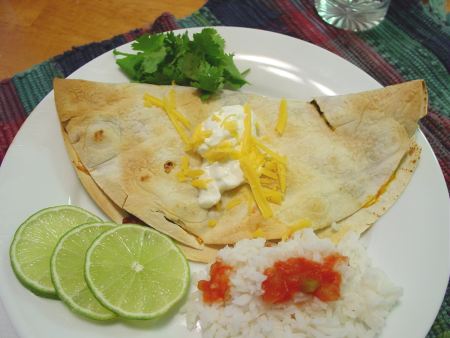 This is an interesting interpretation of a typical quesadilla recipe. We bake the quesadillas instead of frying them. This gives them a roasted flavor and makes the tortillas crunchy, but not flaky.
Ingredients
1

teaspoon

olive

oil

1

onion

1

small, green

pepper

4

ounces

mushrooms

3

cloves

garlic

1

teaspoon

dried

oregano

2

teaspoons

powder

ancho chile pepper

15½

ounces

black beans

1

cup

leftover tomato

sauce

1

lime

olive

oil

2

flour

tortillas

1

cup

cheddar

cheese

2

tablespoons

cilantro

salsa and sour cream
We pre-heat the oven to 400 degrees.
We start by heating the oil in a saute pan. We add the onions and saute on medium heat for a few minutes. Then we add the pepper and cook for a few more minutes, stirring occasionally. Next we add the mushrooms and after a few minutes, we add the garlic, oregano and chile powder. After a minute of stirring, we add the black beans and sauce. We simmer for about 5 minutes and then squeeze the lime into the sauce.
We brush one side of a tortilla with oil and place it oil-side down on a cookie sheet. We put some of the bean mixture on one side of the tortilla, then some cilantro and cheese. We fold the tortilla in half and repeat with the other tortilla. Then we place the cookie sheet into the oven and bake until golden and crispy, about 10 minutes. We serve with salsa, remaining cheese, sour cream and leftover cooked rice.