Ginger Soy Tilapia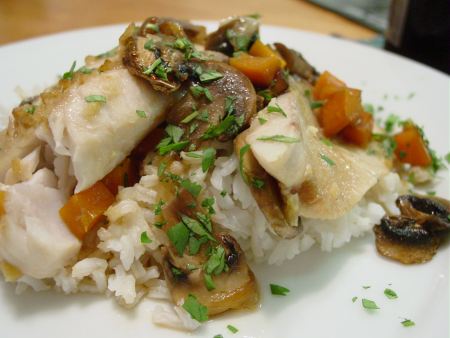 We like this dish because it tastes wonderful and there isn't much clean-up (just the rice pot and the baking dish). The fish is baked underneath aluminum foil to keep the steam of the fish in, keeping it moist.
Ingredients
1.30

pounds

fillets

tilapia

3

cups

white

rice

2½

teaspoons

vegetable, divided

oil

1

cup

carrots

1

onion

4

ounces

white button

mushrooms

2

teaspoons

ginger

3

cloves

garlic

4

tablespoons

soy sauce

4

teaspoons

sesame

oil

cilantro
We pre-heat the oven to 450 degrees.
We put a teaspoon of vegetable oil in a nine by thirteen inch baking dish and put in the oven. We put in the onions, mushrooms, and carrots in succession as we get them chopped.
We prepare the soy-ginger sauce by combining 2.5 teaspoons of the vegetable oil with the ginger, the garlic, the soy sauce and the sesame oil. Abut 10 minutes after we add the carrots to the dish, we lay the rinsed and dried tilapia on top of the vegetables and pour the sauce on top.
We cover the baking dish with some aluminum foil and bake for about 15 minutes until the fish is cooked through.
We serve the tilapia over rice and sprinkle with the cilantro.