Breaded Veal Scallopini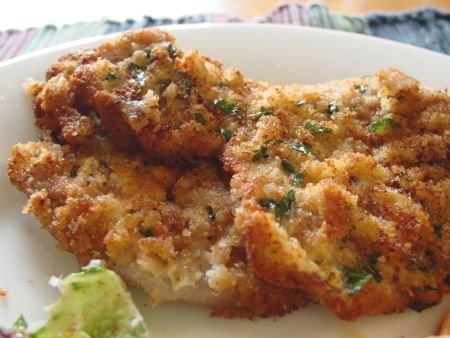 This is a very nice Italian dish. The thinly cut veal is coated with a thick, delicious bread crumb mixture. To be truly Italian, the veal is served hot with some spaghetti and sauce.
Ingredients
2

pound

scallopini

veal

1

cup

light

mayonnaise

1

cup

plain

bread crumbs

1

tablespoon

fresh italian flat-leaf

parsley

1

teaspoon

garlic powder

1

teaspoon

onion powder

3

tablespoons

romano

cheese

(Locatelli)

to taste

salt & pepper

1½

teaspoons

butter

for frying

olive oil
We prepare the veal scallopini about an hour before we want to fry them to allow time for the coating to adhere. We put our mayo into a small bowl. In a medium bowl, we put the bread crumbs, parsley, garlic and onion powders, and the Locatelli cheese. We mix well and add salt and pepper to taste.
We have 7 pieces of veal in our two packages. We start by placing 1 piece of veal on a large piece of wax paper. Using a butter knife, we spread a thin coating of the mayo on one side. We press in some of the bread crumb mixture, turn over, and spread on more mayo. We press in more crumbs and then we place the breaded veal scallopini on a wax-paper lined dinner plate. We dump the crumbs that are on the wax paper back into the medium bowl and continue with the rest of the veal. We refrigerate these (we have 2 dinner plates full) until it is time to fry.
We pre-heat the oven to 250 degrees.
In a large frying pan, we heat 2-3 tablespoons of olive oil with a third of the butter over medium heat. When hot, we add a third of the veal scallopini and pan-fry for 2 minutes, turning when the bottom is brown. We continue to cook on the other side for another 2 minutes and then we drain on paper towels. After a minute we put these on an aluminum-foil coated cookie sheet in the oven to keep warm until all of the veal is fried. We wipe the pan with paper towels using our tongs, add more olive oil and butter to the pan and continue until all are done.