Roasted Red Potatoes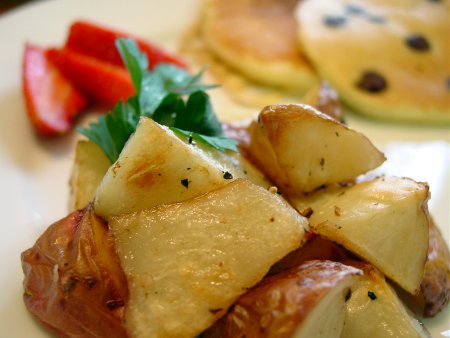 Roasted potatoes are an ideal side. The preparation is very, very easy – simply toss the ingredients and cook in the oven. They need to cook for about 40 minutes, which is plenty of time to prepare other dishes. When everything is done, just put the potatoes into a bowl and serve hot!
Ingredients
6

large

red potatoes

2

teaspoons

olive oil

1

teaspoon

black

pepper

1

teaspoon

kosher

salt
We begin by pre-heating the oven to 425 degrees. We place the just-cut potatoes in a bowl and we toss them with the other ingredients. Once they are well coated, we spread them out over a parchment paper covered cookie sheet. We put them in the oven and cook for 40 minutes, or until they are tender and begin to brown.
We serve them with additional salt and pepper, as necessary.