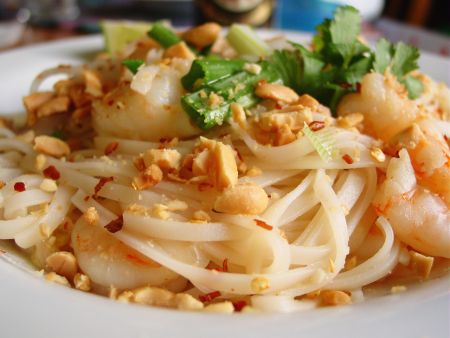 Whether it is called pad thai, paad thai, phat thai, this national dish of Thailand is delicious. This recipe is adapted from Cooking Live. It is a one-pot meal with lots of prep but a quick cooking.
We begin by heating a large pot of water for the rice noodles. Meanwhile we prep the ingredients. We want everything ready for the stir-fry in about an hour. We mix the fish sauce, rice vinegar, brown sugar, and cayenne in a medium bowl for the sauce. We lightly beat our eggs in another bowl. We mince our shallots and garlic, yielding 1/2 cup and 3 tablespoons respectively, and place in another bowl. We place our peanuts in a resealable plastic bag and gently crush with the smooth side of a meat mallet. Then we put these into a bowl. We also have bowls for our bean sprouts, scallions, and cilantro.
When the water is boiling, we add the rice noodles and cook for 4 minutes, according to the package directions. We drain them in a colander and rinse with cold water. We set the colander aside and rinse out the pot for use for the stir-fry.
In another colander, we defrost our shrimp under cold running water for 5 minutes according to the package directions. We drain and let sit for another 5 minutes. We remove the tails and chop each shrimp in half.
In our cleaned and dry pot, we heat a tablespoon of oil over medium heat. When it is hot, we add the eggs and cook for a minute or so until they are set but not browned. We remove the eggs from the pot and place in a clean bowl.
We heat the remaining oil in the pot over medium heat and add the shallots and garlic. We stir-fry for a minute, add the shrimp, and raise the heat to medium-high. We stir-fry for about 3 or 4 minutes – we want the shrimp to be pink and almost cooked through. We quickly rinse the cooked noodles again and drain. We then add the rice noodles, sauce, water, bean sprouts, scallions, and cooked eggs to the shrimp pot. We cook for about 5 minutes, tossing often.
We serve the shrimp-noodle dish with a squeeze of lime and sprinkled with the peanuts, red pepper flakes, and cilantro.