Kristen's Tiramisu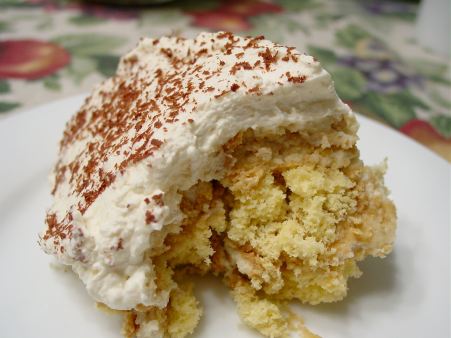 Our new sister-in-law shares her secret recipe for a delicious, rich, italian dessert. This recipe has a few changes from other tiramisu recipes. It avoids using raw eggs. Classically, dry italian ladyfingers are used, but these can be hard to find. Aunt Kristen replaces the ladyfingers with Stella D'oro treats! It is really wonderful!
Ingredients
We start this dessert early in the day to allow the dessert to set-up in the fridge. In a large bowl, we mix the mascarpone with 1/2 cup (8 of the 9 tablespoons) of the sugar until smooth. Next, in another large bowl, we whip 1 cup of the cream with 1 teaspoon of the vanilla using our hand-held mixer. We fold the cream into the mascarpone mixture and set this aside. In a measuring cup, we mix the expresso with the marsala. Finally, we grate the chocolate with our microplane grater onto a sheet of wax paper.
We dip a cookie at a time quickly into the espresso (made using instant espresso earlier today) to moisten it, and start putting them into a decorative container. We use a 10-cup Pyrex bowl today. When we have a layer of cookies, we add a layer of the cream-mascarpone mixture, and continue layering. For the final layer, we whip the rest of the cream with the remaining tablespoon of sugar and the rest of the vanilla. The final layer has the whipped cream and then the chocolate on top. We cover the container and refrigerate for a few hours.