Grilled Lemon Chicken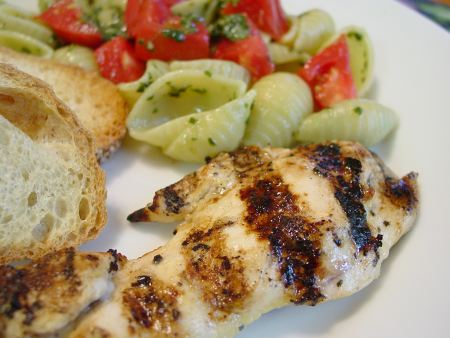 Both the lemon juice and the grill impart wonderful flavor to boneless skinless chicken breasts. This is quick and tasty, with a minimum of ingredients.
Ingredients
We start off tonight by making the quick marinade for the chicken. We rinse and dry the lemons and zest them onto a piece of wax paper using our microplane grater. Then we cut them in half and squeeze them into a measuring cup, removing the seeds. The two lemons give about 3 tablespoons of juice. We add the zest, garlic, olive oil, salt, pepper, and basil and stir.
On a large piece of wax paper we place our 4 rinsed pieces of chicken breast halves. We cover with another large piece of wax paper and using the flat side of our mallet, we pound the chicken pieces to an even thickness.
We place the chicken into a resealable plastic bag and pour the marinade in. We move the chicken pieces around to coat well and then seal the bag. We place the bag into a large bowl and refrigerate for about half an hour. We could have just started the grill and left the chicken on the counter for a few minutes, but we have some time so we refrigerate. We immediately wash and sanitize our hands and work area.
We pre-heat our gas grill and then place the chicken on the grill, discarding the marinade. After a few minutes, we turn with tongs and continue to cook until the chicken is just cooked through. The total cooking time was 6-8 minutes, depending on the size of the piece of flattened chicken.