Eric's Gorgonzola Star Pasta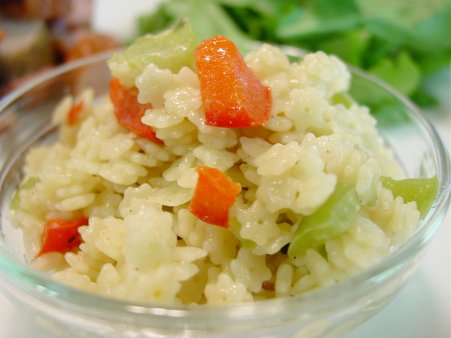 This is Uncle Eric's recipe for a delicious pasta which is perfect served hot, room temperature, or cold. This cook-out-friendly pasta dish is wonderful with grilled sausages, or as a main course to a vegetarian meal. We use star pasta today, but orzo pasta is a great substitute.
Ingredients
1

pound

star-shaped

pasta

1

tablespoon

olive

oil

2

large

red and green

bell peppers

salt

8

ounces

gorgonzola

cheese

4 peppercorn blend

pepper
We begin by heating a large pot of water for our pasta. Meanwhile, we chop our red and green bell pepper into small pieces. We heat our olive oil in a large saute pan and add the peppers. We cook over medium heat, with a little salt, for a few minutes until they are softened. When the peppers are cooked, we lower the heat and keep warm in the pan.
When the pot of water is boiling, we add a little salt, and the pasta. We stir and cook until the pasta is al dente. We drain in a colander and add to a decorative serving bowl. We mix in the cooked peppers, gorgonzola cheese, and salt and pepper to taste.