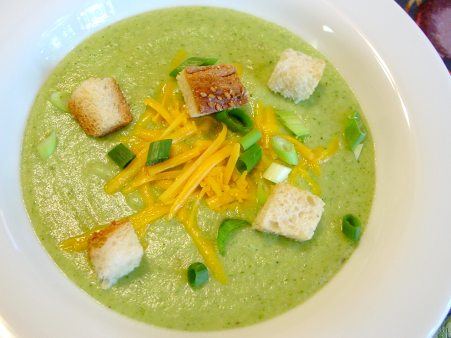 There is a cheddar cheese soup recipe in "Moosewood cooks at Home" which is the inspiration for this soup. We love the combination of broccoli, potato and cheese so we use them to make a delicious creamy soup (without cream!). We use part homemade chicken stock in our soup, but this of course could be vegetable stock or just all water.
We start the soup by heating a large pot with the canola oil over medium-low heat. We add the onions and cook, stirring occasionally, for about 5-10 minutes. We want the onions tender and golden.
Meanwhile, we prep the broccoli. We rinse the stalks and florets and pat dry. We cut off the stalks with our knife and peel down, carefully, the outer "skin" of the stalks. We discard the outer layer, and chop the stalks into pieces. We add them to our cooking onions. Next, we separate the florets and chop them a bit. We set the florets aside for later.
We add the garlic to our pot. Then, we halve and thinly slice the potatoes. We get about 1 1/2 cups of potatoes and add these to the soup. We cover with the stock and water, add salt and pepper, and raise the heat to medium. We partially cover the pot and bring to a boil. We cook the vegetables for about 20 minutes, stirring occasionally, over medium-low heat. We want the vegetables to be covered with liquid as the soup boils. When the potatoes and broccoli stalk pieces are tender, we add the reserved florets. We push these down into the cooking soup, stirring often. We cook these for just a few minutes. We want them tender but still bright green.
We add half of the soup to a blender, we are very careful not to put too much hot food into a blender, and add half the buttermilk. We puree, and pour the pureed soup into a large bowl. We finish pureeing the rest of the soup from the pot with the remaining buttermilk and then add all the soup back into the pot. We raise the heat to medium and as we heat the soup we add the cheese. We do not want the soup to boil. We add more salt and pepper, tasting of course.
We serve the soup right away to keep the vibrant green color. We top with more cheese, scallions, and croutons.