Ginger Apple Crisps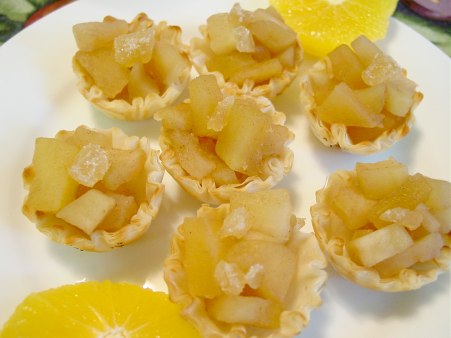 This is a quick and easy dessert that fits right into an asian-themed dinner. We prepare the apples before we start dinner and, while dinner is cooking, we bake the pre-bought fillo shells. After dinner is served, we fill the fillo shells and enjoy a low-fat, low-cholesterol, delicious dessert.
Ingredients
3

medium

mix of empire and golden delicious

apples

1

tablespoon

light

brown sugar

cinnamon

1

teaspoon

orange juice

1

package

15 frozen mini fillo dough shells

fillo

(Athens Foods)

1

tablespoons

candied, precut into small pieces

ginger
We start by pre-heating the oven to 350 degrees while we prepare the apples. We cut each apple into 4 pieces around the core. We peel each piece and then chop into small pieces. We put the apples into a medium pot, discarding the cores. We sprinkle with some brown sugar (this is going to be to taste depending on the apples so adjust accordingly) and cinnamon and pour on the orange juice. We cook over medium-low heat, for about 15 minutes, stirring occasionally.
When the apples are tender and tasty, we pour them into a bowl and cover with parchment paper.
We put the bought fillo shells onto a parchment-lined cookie sheet and bake from the frozen state for about 6 minutes until crispy. We remove them from the oven and let cool for about 20 minutes (while we eat dinner).
We fill the shells with the apples and top each one with candied ginger.