Lemon Salmon Teriyaki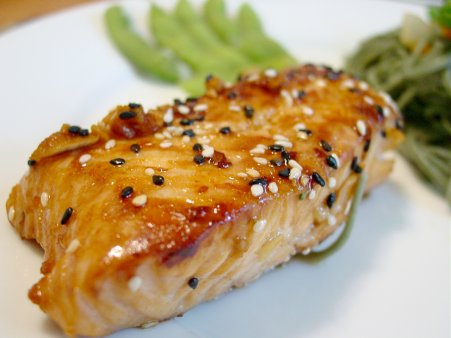 We replace the alcohol that is traditionally in teriyaki marinades with lemon juice which complements the salmon nicely. We pan-fry and then roast the marinated salmon instead of grilling tonight, but these would also be wonderful
grilled
.
Ingredients
1¼

pounds

fresh fillet

salmon

1

tablespoon

mix of black and white

sesame seeds

¼

cup

soy sauce

½

tablespoon

sugar

2

teaspoons

fresh

ginger

2

cloves

garlic

4

teaspoons

lemon juice

canola, for pan

oil
We begin by preheating the oven to 375 degrees. In a 1-cup glass measuring cup, we combine the soy sauce, sugar, garlic, ginger, and lemon juice. We cut the rinsed and patted dry salmon into 4 portions, place them in a resealable plastic bag and pour on the marinade. We seal the bag and refrigerate on a plate for about 30 minutes.
We place the sesame seeds in one layer on a parchment-lined cookie sheet and put in the preheated oven. We bake for just a couple of minutes. We want the seeds fragrant but not burned!
We heat our nonstick pan with the canola oil over medium heat. We remove the salmon from the bag, pat dry with paper towels, and, when the pan is hot enough, we add the salmon and cook for about 2 minutes on the first side. We flip over with tongs and cook for another 2 minutes. We place the pan into the oven and cook for a few more minutes. We want the salmon just cooked through.
Meanwhile, we pour the marinade into a pot and boil for a few minutes to be served on top of the salmon.
When the salmon is cooked, we remove the pieces to a plate, pour the teriyaki sauce on top, and sprinkle with the sesame seeds.