Quick Chicken Curry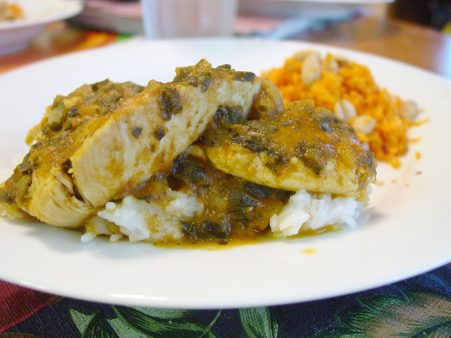 We
again
use a Trader Joe's sauce to make the preparation of this dish simple. We add boneless skinless chicken tenders, but cooked lentils or
fish
would also be wonderful. This sauce has spinach, tomato, light cream, onions, lemon juice, ginger, garlic, and turmeric among its ingredients.
Ingredients
1

cup

Indian Basmati

rice

(Trader Joe's)

1¾

cups

whole jar

Punjab spinach sauce

(Trader Joe's)

1¾

cups

divided, plus more for rinsing rice

water

1

pound

boneless skinless tenders

chicken

(Tyson)
We begin by cooking the rice. We rinse the rice several times and cook in 1 1/2 cups of water according to the package directions.
We take the chicken out of the fridge and rinse the tenders. Using a paper towel and some force, we try and remove the tough white tendon that runs through most of the pieces of chicken. We place the chicken on a plate and wash our hands well.
We combine the spinach sauce and 1/4 cup of water in a large pan and bring it to a boil over medium heat. We add the chicken, lower the heat, and partially cover so the chicken simmers gently. We cook for about 10 minutes, turning the tenders occasionally and checking for firmness. We want the chicken to be cooked through and the flavors mingled.
We serve the fish curry over the cooked basmati rice.