Batter-Fried Fish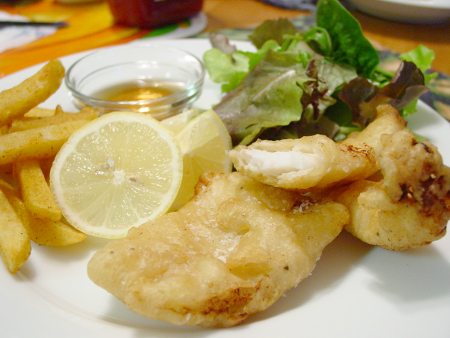 This fish has a crispy, flavorful coating (with a Maryland taste) surrounding a moist, tender filling. It is delicious with malt vinegar and french fries – classic fish and chips fare.
Ingredients
1

pound

thin flounder fillets

fish

2%

milk

1

cup

all-purpose unbleached

flour

½

teaspoon

baking powder

1

bottle

beer

(Bass Ale)

salt & pepper

½

teaspoon

Old Bay seasoning

½

cup

Shake & Blend

flour

(Pillsbury)

canola

oil
We begin by soaking our fish in some milk for tenderness and freshness. We rinse the flounder fillets and cut them in half with scissors. Some of the longer pieces we also cut in half. We put the 20 pieces of fish into a large bowl and cover with milk. We refrigerate while we make the batter and heat the oil.
In a large bowl we put the all-purpose flour and baking powder and measure out 1 cup of beer. We add this slowly to the flour, whisking, until the batter is smooth. We add a little more beer to make it the consistency of pancake batter (the rest of the bottle we drink of course!). We stir in a pinch of salt, some fresh pepper, and the Old Bay seasoning. We set this aside and we get a dinner plate ready covered with paper towels. We also get a bowl with the Pillsbury flour ready to coat the fish before it goes into the beer batter. We add salt and pepper to this flour as well.
We put our dutch oven (a deep heavy pot) on the stove and put about an inch and a half of oil in it for frying. We turn on the heat to medium-high and put a candy thermometer into the oil. We want the oil to reach 375 degrees to start frying.
When the oil is almost at 375 degrees (we try and keep the oil between 360 and 375 degrees), we pat dry 4 pieces of fish with a paper towel and place into the Pillsbury flour and then into the batter, turning to coat well. We gently put the fish into the oil, one at a time, and cook for 1 minute. We turn them with our chinese strainer and cook for another minute or so. We want the fish golden. We remove them to the paper-towel-lined plate and sprinkle with salt. We put 4 more fish pieces into the flour and then the batter and when the oil is at 375 degrees we repeat the frying. We could have transfered the already cooked fish into a warm oven, but we do not bother here. We let the fish 2 batches of fish cool slightly for our children and the rest we eat ourselves.