Pan-Fried Flounder with Lime Brown Butter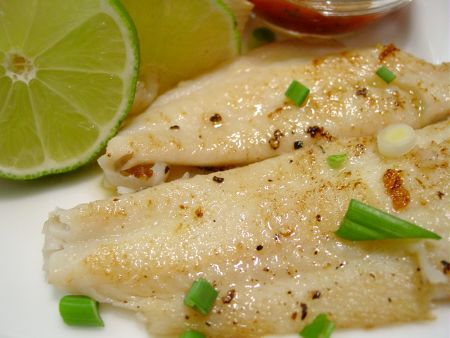 This is a quick and easy fish dish that requires few ingredients. The brown butter sauce is yummy, a great complement to the fish, but a squeeze of lime would also have been nice for the calorie watchers!
Ingredients
1

pound

4 flounder fillets

fish

1

medium

unsalted

lime

1

tablespoon

olive

oil

4

tablespoons

unsalted

butter

salt & pepper
We begin by rinsing our flounder fillets and patting them dry with paper towels. We place them on a dinner plate, skinned side down, and wash our hands. We rinse and dry the lime and cut in half. One half we cut in slices to be served with the fish and the other half we squeeze into a small cup, yielding 1 tablespoon of juice.
We put our large non-stick pan on the stove and begin heating it over medium-high heat with 1/2 tablespoon of oil. We get the 1.5 teaspoons of butter ready. We salt and pepper the flesh-side of the four fillets. When the oil is hot and beginning to smoke, we add the 1.5 teaspoons of butter and when melted, we add 2 fillets to the pan salt and pepper side down. We salt and pepper the other side and cook for about 3 minutes. We want the fish golden brown. We carefully flip the fish over with a spatula and continue cooking for 2 minutes until the fish is cooked all the way through. We remove the fish to a clean dinner plate and cover with foil.
We repeat with the remaining oil and when hot, add another 1.5 teaspoons of butter. When the butter is melted, we add the rest of the fish and cook for 2-3 minutes on each side. When the fish is browned and cooked through, we add them to the other cooked fish.
We wipe the pan with paper towels and add the remaining 3 tablespoons of butter. We cook over medium heat until the butter is browning. The non-stick pan is dark so it is hard to tell, but we want the butter to develop the nutty flavorful taste that brown butter has. When the butter looks good, we remove the pan from the heat and add the lime juice. We pour the lime brown butter sauce over the fish fillets and serve.