Old Bay Shrimp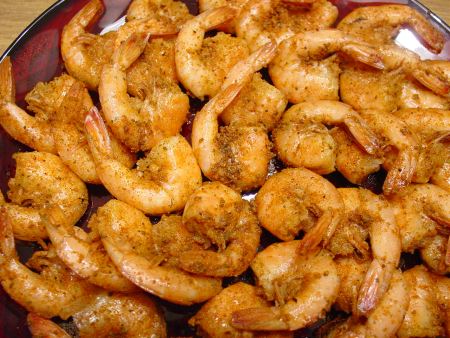 In this dish, we try to duplicate an appetizer from local fish markets – steamed shrimp with Old Bay seasoning. The shrimp are steamed in their shell with this very Maryland spice and eaten cold with cocktail sauce. This is a delicious, albeit messy, appetizer.
Ingredients
1

pound

36-40 count, frozen,white, uncooked, deveined, with shell-on

shrimp

(Trader Joe's)

2

ounces

about a third of a 6 oz container

Old Bay Seasoning

kosher

salt
We begin by defrosting the shrimp in a colander in the sink under cold running water according to the package directions. We pour about 1.5 cups of water into a large pot and fit in our collapsible metal steamer. We want the water to just come up through the steamer holes so that the shrimp can steam instead of boil. We place the pot on the stove, over medium heat, and bring to a boil.
We fill a medium sized bowl with ice and cover with saran wrap so the cooked shrimp will get cold but not directly touch the ice.
When the shrimp are defrosted and the water is boiling, we place half of the shrimp into the steamer in one layer and sprinkle on a tablespoon of Old Bay seasoning. We cover and cook for 2 minutes. We remove the lid and check the shrimp. We turn the shrimp over with tongs and cook for another couple of minutes until the shrimp are bright red and feel firm. We remove the cooked shrimp to the bowl of ice. We sprinkle with more Old Bay and some salt.
We continue with the remaining shrimp. While the next batch is steaming, we turn the cooked shrimp over with clean tongs and sprinkle the other side with more Old Bay. We remove these to a serving platter. When all the shrimp are on the serving platter, we cover with plastic wrap and refrigerate for a few hours. We want the shrimp to be served cold with cocktail sauce.