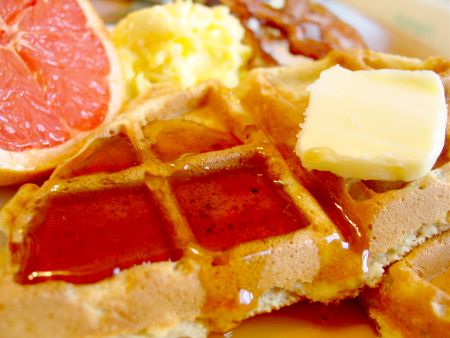 We are inspired by a recent Martha Stewart show to make homemade buttermilk waffles. These are light and crisp, with a wonderful flavoring of cinnamon and vanilla, perfect for brunch, supper, or even as a dessert waffle.
We start off by placing the butter in a small measuring cup and melting it in the microwave on medium power for a minute. We set it aside to cool. Then we dust off our waffle iron, literally! We wipe the non-stick surfaces with some canola oil and make sure it is clean and well-greased. We plug it in and heat according to the manufacturer's instructions.
Next we get the wet ingredients ready. We separate each egg, placing the whites in one medium-sized bowl and the yolks in another medium-sized bowl. We place the buttermilk in a large measuring cup and microwave it on high power for a minute to warm slightly from its refrigerated temperature. We add this to the yolks, along with the melted butter and vanilla and beat with a whisk. We set the whites aside for a few minutes before whipping them.
Next we get the dry ingredients ready. Over a large bowl, we place our fine strainer. We pour in the flour, sugar, baking powder, baking soda, salt, and cinnamon. We sift these into the large bowl, having to push through the brown sugar with a spatula.
Using our immersion blender with the whisk attachment, we whip our egg whites to soft peaks. We keep going until it is almost stiff peaks, we don't want them too stiff or dry.
We add the buttermilk-egg yolk mixture to the dry ingredients and stir until well incorporated with our whisk. Next we fold in the whipped egg whites with our spatula until they are almost all incorporated.
With a ½ cup dry measuring cup, we pour the thick batter onto the pre-heated waffle iron. We close and cook for about 5 minutes according to the directions for our waffle iron. When a waffle is done, we remove it with our very clean fingers carefully and toss it from one hand to the other to cool slightly and crisp.
We serve immediately. We could have put them in a 250 degree oven, but our kids could not wait! We continue until all the waffles are cooked. We get 8 yummy waffles. We serve the waffles with butter and maple syrup.