Cinnamon Oatmeal Waffles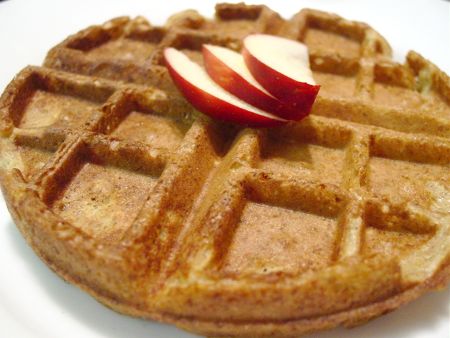 Some of us truly love oatmeal. We are inspired by a new addition to our cookbook library to create a buttermilk waffle flavored with oats, cinnamon, and vanilla. While we ate our oatmeal for breakfast, we started soaking some rolled oats in buttermilk in the fridge. The wheat germ and oats make these healthier than some buttermilk waffles and the flavors complement each other well. In addition to being healthier, these waffles are quicker to make than our other
buttermilk waffles
– this is a "dump" recipe. Instead of having to separate eggs and then beat them separately, an egg is simply added to the bowl with the other wet ingredients.
Ingredients
2

cups

buttermilk

⅔

cup

old-fashioned, rolled

oats

(Quaker)

2

tablespoons

unsalted

butter

canola

oil

1

large

egg

2

tablespoons

light

brown sugar

1

cup

all-purpose, unbleached

flour

¼

cup

wheat germ

1½

teaspoons

baking soda

½

teaspoon

fine

salt

½

teaspoon

ground

cinnamon

1

teaspoon

extract

vanilla

salted

butter

pure

maple syrup

farmer's market

apple
We start in the morning by combining the buttermilk and oatmeal in a medium bowl, stirring, covering, and refrigerating for 8 hours to soften.
When it is time for dinner, we start off by placing the butter in a small measuring cup and melting it in the microwave on low power for a minute, watching carefully. We set it aside to cool. Then we remove the oat-buttermilk mixture from the fridge and dust off our waffle iron. We wipe the non-stick surfaces with some canola oil and make sure it is clean and well-greased. We plug it in and heat according to the manufacturer's instructions.
Next we crack the egg into a large bowl and whisk. We add the brown sugar and mix. We pour in the flour, wheat germ, baking soda, salt, cinnamon, vanilla, the reserved melted butter, and oat-buttermilk mixture. We mix with a wooden spoon.
With a ½ cup dry measuring cup, we pour the thick batter onto the pre-heated waffle iron. We close and cook for about 5 minutes according to the directions for our waffle iron. When a waffle is done, we remove it with our very clean fingers carefully and toss it from one hand to the other to cool slightly and crisp.
We serve immediately. We could have put them in a 250 degree oven, but the kids could not wait! We continue until all the waffles are cooked. We get 6 yummy waffles. We serve the waffles with butter, maple syrup, and sliced apple.