Nan's Meat in the Gravy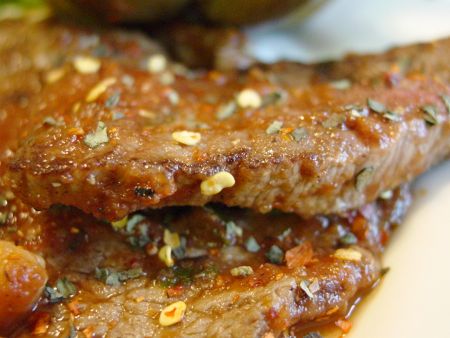 When Nanny made pasta with a tomato sauce on a Sunday, she often put various meats in the sauce – making it a "gravy". The meats were served on the side of the "macaroni", no matter what the shape of pasta. One of Robin's favorites is a thin chuck steak simply browned and cooked in the tomato sauce. She adds a little red wine and substitutes "chip steaks" but is still transported to her childhood.
Ingredients
12

ounces

4 chip steaks

beef

salt & pepper

1½

teaspoons

extra-virgin olive

oil

2

tablespoons

dry red

wine

2

cups

leftover

tomato sauce
We start by removing the "white veins" running through some of the steaks. It is very tough so we cut it out with our knife (although the steaks take on some odd shapes). We salt and pepper the steaks and then wash our hands.
We heat our dutch oven over medium-high heat and, when hot, we add the olive oil. We fit in half of our pieces of meat, using tongs to pick them up from our cutting board. We cook quickly for just under a minute a side. We want to brown the meat but not cook it all the way through. We remove the browned pieces to a clean plate and add the rest of the steak.
When all the pieces are browned and reserved on the dinner plate, we lower the heat to medium-low and add the red wine. We stir the wine, scraping up the browned bits from the bottom of the pan, and cook for a few minutes.
Next we add the refrigerated tomato sauce and raise the heat to medium. When the sauce has come to a boil, we add the steaks to the sauce, along with the juice that has accumulated on the plate. We turn the steaks with tongs to coat them and lower the heat to medium-low. We cook, partially covered, for about 10 minutes.
We serve the meat alongside pasta or just on its own topped with some sauce.