Easy Caramel Yogurt Brownies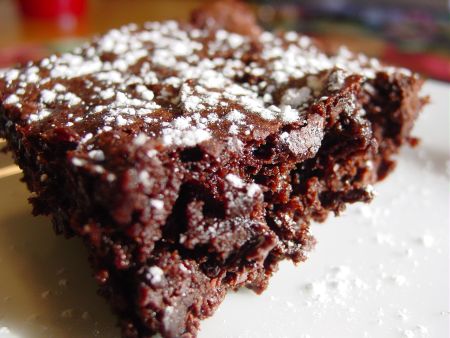 We love the No Pudge! Brownie mix that we find at many local stores. We have made them according to the package directions many times, they are fat-free and yummy. We have been experimenting with adding an entire small container of yogurt to simplify the measuring step and we like chocolate chips in our brownies. These are thick, fudgey, delicious brownies. They are not fat-free, but still low in fat, and very easy to make.
Ingredients
We start by pre-heating the oven to 350 degrees. Next we prepare our 8 inch square glass baking dish by spraying it lightly with the vegetable spray.
We pour the brownie mix into a large bowl. We open the yogurt and pour off into the sink the small amount of liquid that separated out. We mix the yogurt with a small spoon, and add it to the brownie mix. We add the vanilla extract and then, with a sturdy big spoon, we mix the ingredients. Once the dry mix is incorporated, we keep stirring for another minute. The mixture will be rather thick and shiny. When the mixture is ready, we stir in the chocolate chips.
We pour the brownie mixture into the prepared pan, distributing it with our spoon into the corners. We place the pan into the oven and bake for 37 minutes.
We take the brownie pan out. It is starting to pull away from the edges of the pan but it is still a bit soft in the center. We set it on a cooling rack and leave it for a couple of hours (ideally!).
When the brownies are cool we heat a butter knife in hot water and make a cut. We wipe the knife and then heat and cut again. The brownies are very fudgey so it is easiest to cut with a clean hot knife. We cut into as many small squares as we need and cover and refrigerate the rest.
We serve the brownies dusted with confectioners' sugar.