Individual Blueberry Crumbles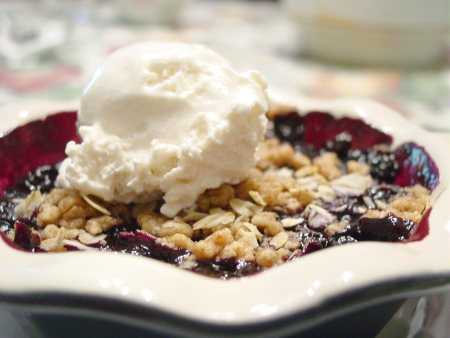 We use frozen blueberries and a homemade
crumble
topping to make a delicious, easy, dessert. We serve the warm blueberry crumble in individual pie dishes with a choice of vanilla or coconut ice creams for a superb hot/cold contrast. Next time we may double the crumble, but there were not any complaints with this recipe!
Ingredients
We start by preheat ing the oven to 400 degrees. In a large bowl, we combine the frozen blueberries with the sugar, cornstarch, cinnamon, and vanilla. We stir well with a large spoon.
We divide the blueberry mixture between four 5½ inch diameter pie dishes. Our daughter has been helping herself to the blueberries, but we still have enough to put in a ramekin as well.
We top the blueberries with the crumble. We place the pie dishes and ramekin on a large, rimmed cookie sheet and bake for 40 minutes. We want the blueberries bubbling and the topping browned.
We let the pies cool for a few minutes and serve with ice cream.