Bacon and Bean Chili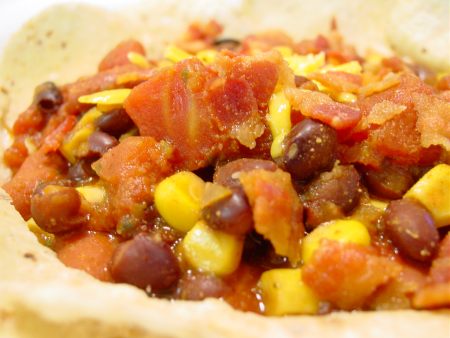 We alter our
two-bean chili
by adding bacon, making it a truly no-cutting-board-required dish. We utilize
sofrito
we have in the freezer and canned beans and vegetables for a "dump", yet delicious dinner.
Ingredients
We start by heating a large pot over medium-low heat. The 4 slices of bacon are held over the pot, without separating them, and sliced into about ½ inch slices with kitchen scissors. We wash our hands when all the bacon is in the pot and cook gently for about 10 minutes, stirring occasionally.
When the bacon has rendered its fat and it is getting crispy, we remove the pieces to a paper-towel-lined plate. It is not as cooked as we like our bacon, but we will microwave it for a minute or two when it is almost time to eat. We cover it with another piece of paper towel and set aside. All but 2 teaspoons of bacon fat are poured out of the pot into an empty metal can and we add the sofrito. We start to break up the cubes with a wooden spoon. We cook for a couple of minutes until it is defrosted and fragrant.
Next, we add the cumin and ancho chile powder and stir. We open the cans of tomatoes and beans and add the tomatoes to the pot. We strain and rinse the beans and add these to the pot along with the corn. We raise the heat to medium and bring the chili to a boil. When the mixture is boiling, we lower the heat, partially cover it, and cook for about 15 minutes to meld the flavors.
When the chili is just about ready to be served, we microwave the bacon for 30 seconds at a time and check for doneness. After a minute and a half, it is perfect.
We serve our chili with grated cheese, the bacon, and chips.