Chorizo Bean Chili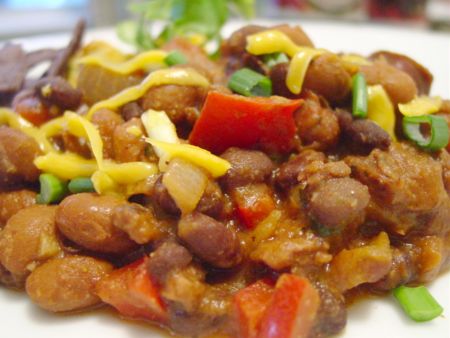 We add chorizo to a variation of our two-bean chili for a non-vegetarian, but deliciously warming, main course. We utilize a few veggies in fridge, some canned beans, and tomatoes for a quick, winter meal.
Ingredients
1

link

smoked turkey and chicken chorizo, fully cooked, about 3 oz., frozen

sausage

(chef Bruce Aidells)

1

teaspoon

canola

oil

⅓

cup

yellow

onion

½

cup

red

bell pepper

1

teaspoon

powder

cumin

1

teaspoon

ancho

chile powder

1

clove

garlic

½

cup

canned, diced, no salt added

tomatoes

(Muir Glen Organic)

¼

cup

water

15

ounces

canned

black beans

15

ounces

canned

pinto beans

1½

tablespoons

grapefruit juice

cheddar

cheese

scallion

cilantro
We start by heating a medium pot over medium heat. We defrost the chorizo for just a couple of minutes on the defrost setting of the microwave. We add the oil to the pot and then, with kitchen scissors, we slice the chorizo directly into the pot. We wash our hands and cook, stirring occasionally, for about 3 minutes.
When the chorizo is getting crispy, we add the onion. We cook for just a couple of minutes and then add the red peppers. We stir and cook for 5 minutes while the vegetables soften.
Next, we add the cumin and ancho chile powders, and the garlic, and stir. We open the cans of beans, strain them, then rinse them. We add the tomatoes, beans, and water to the pot and scrape up the brown bits on the bottom of the pot with the wooden spoon. We bring the chili to a boil, lower the heat, partially cover it, and cook for about 10 minutes to meld the flavors.
We stir and taste for seasoning – it is delicious but needs a little pick-up from citrus. We do not have any limes, so we add some grapefruit juice. We serve the chili garnished with scallions, cheese, and cilantro.