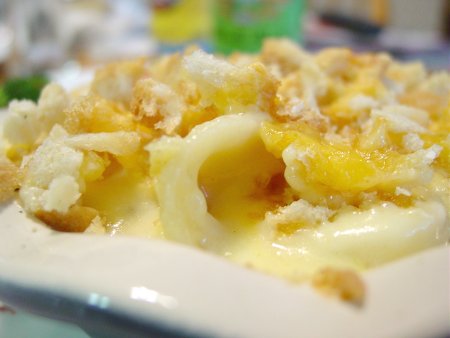 We love macaroni and cheese, especially with a crunchy top from homemade bread crumbs. We often cook extra pasta and toss the extra with a little olive oil to keep it from sticking in the fridge. The next night we just need to make the cheese sauce and bake. We thought we made a huge mistake when a third of our cooked pasta fell to the floor. We had too much cheese sauce for the amount of pasta but the result of this happy accident is like a macaroni and cheese fondue.
We pre-heat the oven to 375 degrees.
In a medium pot, we melt the butter over low heat. We add the flour and cook over medium-low heat for three minutes. This butter-flour mixture is known as a roux.
Meanwhile, we heat the milk in the microwave on full power for 1½ minutes. Using our flat whisk, we whisk the heated milk into the butter-flour mixture and increase the heat to medium, stirring often until it comes to a boil. This takes about eight minutes. We also heat the pasta for 30 seconds in the microwave to warm slightly.
When the sauce is boiling, we lower the heat and boil for a few more minutes, stirring well. We add salt and pepper and some gratings of nutmeg made with our microplane. We then remove it from the heat and stir in the cheese. When it is all melted, the sauce is added to the 2 cups of pasta, there is a lot of sauce, and divided between three 5½ inch diameter baking dishes.
We chop the bread slices in thirds and add them to our food processor. We turn it on and grind until we have coarse bread crumbs. We have about 1 cup of homemade bread crumbs. This mixture is sprinkled on the saucy pasta, more salt and pepper is added, and we bake the baking dishes on a large cookie sheet for about 20 minutes.
We want the macaroni and cheese to be bubbling. When it is bubbling and browned, we remove the cookie sheet with the baking dishes from the oven and let rest for a few minutes before enjoying!