Quick Pickled Cherry Peppers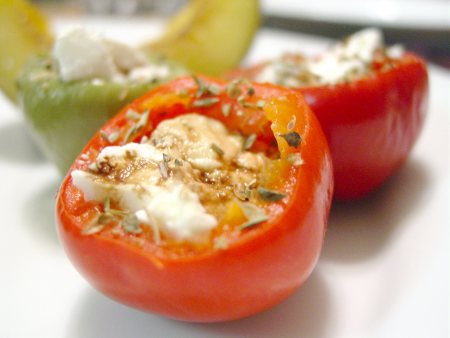 Robin had a delicious appetizer at a local cooking class recently: stuffed peppadew peppers. The pickled peppers were store-bought and stuffed with marinated mozzarella. With this memory in mind and fresh cherry peppers from the local farmers' market, we quick-pickle the peppers, following a Sara Moulton recipe. We stuff them later with a little feta cheese, dried oregano, and balsamic vinegar. They are spicy and easy (once the peppers are pickled).
Ingredients
½

cup

apple cider

vinegar

1

clove

large

garlic

¾

teaspoon

kosher

salt

2

whole

black

peppercorns

12

medium

fresh, farmer's market

cherry peppers
In a small pot, we bring the vinegar, garlic, salt and peppercorns to a boil. Meanwhile, we rinse the cherry peppers and slice the stems off (the top part of the pepper). When the liquid is boiling, we add the peppers and cook for 8 minutes over medium heat, turning every few minutes until softened. We should have used triple to quadruple the liquid ingredients so the peppers would be completely submerged and we would not have to turn them but we were low on vinegar.
When the peppers have softened, we cover, remove from the heat, and set aside to cool for 30 minutes.
We refrigerate the peppers and their liquid in a resealable plastic container for a few hours to chill and will store them up to a week.
When it is time to stuff them, we scoop out their seeds and fill with a marinated cheese mixture. On another night, we might seed and add them to dishes for a nice heat and pickled flavor.