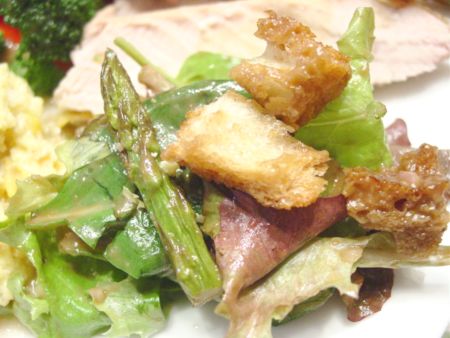 We love roasted asparagus, so we rarely have any leftover. We purposefully roast asparagus ahead of time to include in an "elegant" salad – perfect for company.
We begin by preparing all the ingredients. Some of the lettuce needs to be washed and spun dry, and some is pre-washed in a bag.
We make the dressing and, at the same time, mince an extra shallot for the salad (the dressing calls for shallots as well).
We prepared some homemade croutons yesterday by cutting cubes of bread from a leftover Italian loaf, tossing with a little olive oil, salt and pepper, and baking in a 350 degree oven until crisp. We refresh them now (they were stored in the fridge) by re-toasting the croutons in the toaster oven on a piece of foil. It's only a few minutes until they are hot – at which point we allow them to cool and crisp further.
We heat the refrigerated asparagus in the microwave for 30 seconds, covered with plastic wrap, and then quarter the stalks crosswise.
We put the lettuce in a large bowl and add the asparagus, shallots, and some of the dressing. We toss with tongs to coat the leaves well, adding more dressing as necessary. Finally, we add the croutons, and, using our peeler, we grate the parmesan in, about a half cup's worth. We taste for seasoning and serve.