Greek Salad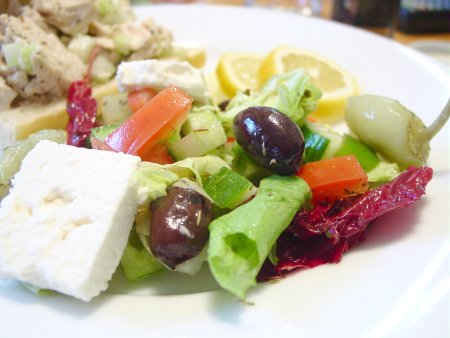 We toss together chopped vegetables, olives, and feta cheese, dressed simply with red wine vinegar and olive oil, for a filling Greek salad. We replace the classic red onion and iceberg or romaine lettuces with a bagged butter lettuce and radicchio mix, but otherwise, it is just like one of our favorite salads at our favorite restaurants.
Ingredients
In a large bowl, we put the lettuce mix and green pepper. On our cutting board, we chop our cucumber, yielding 1¼ cups. We cut strips of the fleshy part off the tomato, leaving behind the seed pod. We chop the tomato, yielding ½ cup plus 2 tablespoons.
We add the olives, vinegar and oil, a sprinkle of oregano, a little salt and freshly ground pepper, to the bowl and toss well. We garnish the serving plates with the feta cheese and pepperoncini.