Mafalde with Spinach and Ricotta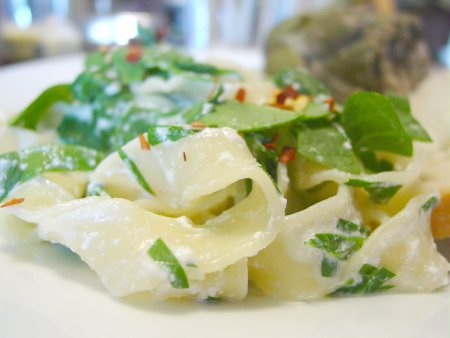 When Robin was growing up, certain shapes of pasta were always paired with a specific type of sauce. Mafalde, a thin lasagne noodle, was always served with a tomato sauce and ricotta cheese. In this recipe, inspired by Mario Batali, we omit the tomato sauce and combine the ricotta cheese with spinach and herbs. The result is more like a warm salad than a "saucy" pasta dish – with a refreshing springtime feel.
Ingredients
¾

pound

mafalde

pasta

½

cup

Italian flat leaf

parsley

5

ounces

bagged, baby, cleaned

spinach

1

cup

part-skim

ricotta

(Polly-O)

salt & pepper

red pepper flakes

Pecorino romano

cheese

(Locatelli)
We start by heating a large pot over high heat with water for our pasta. While the water is coming to a boil, we get our sauce ready.
In a large bowl we put our chopped parsley. We chop a little of the spinach at a time with our knife and add to the bowl.
When the water comes to a boil, we add salt and the pasta. We stir and cook until al dente. Just before it is done, we scoop 1 cup of the pasta cooking liquid into a 2-cup glass measuring cup. We add the ricotta to the hot liquid and stir well.
We drain the cooked pasta into a colander and add back to the pot. We dump in the spinach and parsley and stir in the ricotta sauce. The mixture is tossed with tongs and salt and freshly ground black pepper are added.
We serve each portion topped with red pepper flakes and freshly grated Locatelli.