Roasted Zucchini Rounds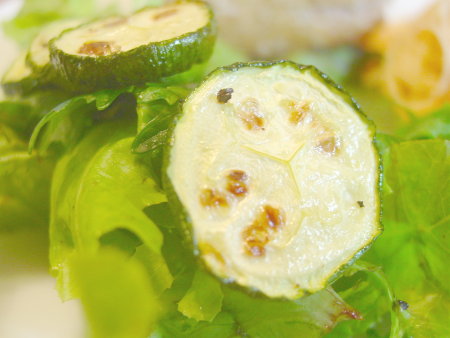 We slice small round zucchini thinly to resemble pepperoni and roast until tender and caramelized. We use just a little oil to keep this low-calorie, but of course this can be adjusted. They can be eaten as a vegetable side dish, on a green salad, in a sandwich, as a topping on pizza, or just with dip.
Ingredients
We begin by pre-heating the oven to 425° F. We cover a cookie sheet with parchment paper.
We rinse the zucchini, dry with paper towels, and place on the cutting board. Each is sliced thinly, less than ¼ inch, and put in a bowl. We drizzle with the olive oil, tossing well, and spread on the parchment paper. We sprinkle on salt and pepper and roast for about 20 minutes until tender and starting to caramelize.