Barbecue Sauce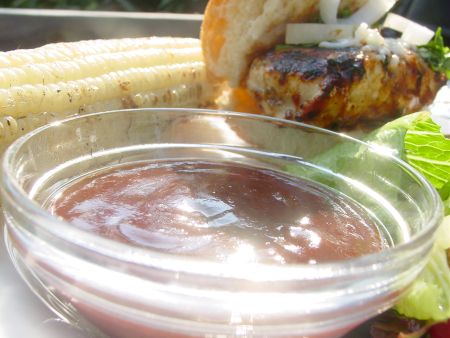 We are inspired by a Cook's Illustrated recipe to make our own barbecue sauce. It is a simple quick-cooking sauce, although there are a lot of ingredients. Our "touch" to the recipe is to add pure chile powders instead of the generic supermarket chili powder blends. The resulting sauce is wonderful, a nice balance between sweet and spicy. We serve it on chicken but it would be great on ribs, burgers, or seafood. Our only regret is that we did not double the sauce!
Ingredients
1

cup

ketchup

2

tablespoons

Worcestershire sauce

2

tablespoons

Dijon country-style

mustard

3

tablespoons

molasses

2

tablespoons

Grade B maple

syrup

3

tablespoons

apple cider

vinegar

½

teaspoon

ground ancho

chile powder

½

teaspoon

ground chipotle

chile powder

¼

teaspoon

ground

cumin

¼

teaspoon

cayenne

2

cloves

garlic

1

small

onion
We start in the morning by mixing all of the ingredients, except the garlic and onion, together in a 2 cup measuring cup. Next, we use our garlic press to squeeze the cloves directly into the sauce. The final, and most time consuming, step is the grating of the onion. We use our microplane to grate some of the onion into a bowl. We measure out 1 tablespoon, reserving the rest of the onion for another use. We add the grated onion to the sauce and stir. We have 1 2/3 cup of sauce. It is covered with plastic wrap, and refrigerated.
When we are preparing the dinner, we pour the sauce into a medium sized pan and bring it to a boil over medium heat. We lower the heat, cover partially, and simmer for a few minutes to thicken slightly.
Some of the sauce is reserved in prep bowls to be served with dinner and the remaining is brushed on the food while cooking.