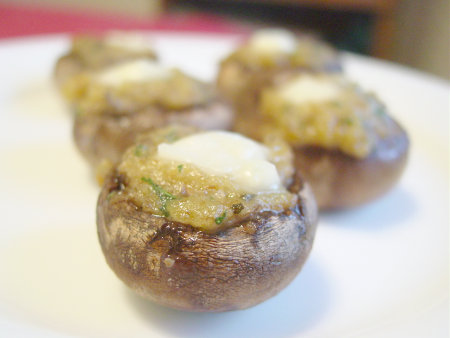 This is Nanny's recipe for one of her special appetizers/side dishes. It was a good thing we had Nanny in the kitchen helping to prepare her recipe since her hand-written version was not specific enough! This tasty dish can be made ahead, covered, and refrigerated prior to the baking step for a quick starter to a dinner party.
We start by preparing the mushrooms, which total 17. The stems are pulled out of the cleaned mushrooms one at a time. We mince about ¼ of the stem—the part that was attached to the mushroom—and discard the other ¾ of the stem (because it is too dry). We are also careful to clean out as much of the mushroom cap as possible, without breaking it. Any scraps are added to the minced mushroom stems.
Meanwhile, we mince the garlic with a pinch of salt.
When the mushrooms are almost ready, we heat the garlic and oil over medium heat in a 10-inch pan. When the garlic starts to sizzle, we add a small pat of butter and the minced mushroom stems. We simmer for a minute, stirring, and add the parsley, salt and pepper, and ½ cup or so of the breadcrumbs. We want the mixture to be pasty. We take the pan off the heat to cool.
We prepare the topping for the stuffed mushrooms while the filling cools. We cut 17 small pieces of mozzarella and 17 small pieces of butter, keeping them separate to distinguish one from the other.
We preheat the oven to 300° F.
To the cooled filling, we add a tablespoon or so of freshly grated Locatelli. We taste for seasoning, and then add the egg. We spray a 9-inch pie pan with Pam and get the workspace set up to fill the caps.
Each mushroom is filled with a teaspoon and placed in the prepared pan. We start with a little of the filling at first, until all of the caps are filled, and then we go back and top off each. Any remaining filling is reserved in the refrigerator for another use.
We cover each cap with the reserved bits of mozzarella and butter and bake in the oven for 25 minutes. We want the mushrooms tender and the cheese melted.