Christmas Eve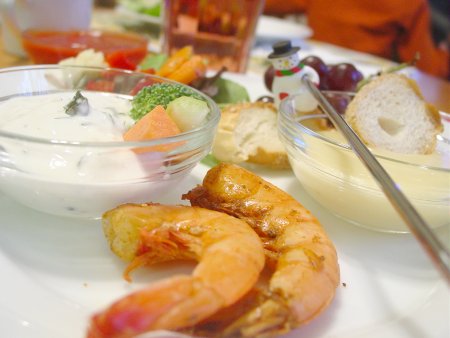 We are very excited to host Christmas Eve again this year. Excited and a little overwhelmed. To a certain extent, we have gotten used to hosting Christmas Eve. This year, we have some rather intimidating (but very much loved) guests—Nanny and Gramps.
With Nanny's help last night, we were able to make quite a bit of headway getting this meal ready. Today, we finish up a few last items and do some cleaning.
Aside from the occasional catnap, Gramps rarely slows down when he is at home. He runs errands several times a day (everything is in walking distance in Brooklyn). He moves cars for the neighborhood. He plays his numbers. With this in mind, Chris and our daughter take him to a liquor store and to Starbucks to get some coffee. Later in the day, Gramps and Chris go to Cold Stone to pick up one of the desserts—a candy cane holiday cake.
Brian and Kristen are the other out-of-towners helping to make tonight's dinner special. As for the in-towners, Erin, Grammy and Boppy join us. Erin and Brian avoid meat (Brian being a strict vegetarian), so we are sure to include several suitable dishes among the traditional dishes. Of course, everyone eats cheesies.
We are quite pleased with dinner. The cheese fondue turns out especially well—more so because we still recall struggling with it two years ago. The kids very much enjoy the meat fondue. They like the desserts too.
We are blessed to have such a loving family around us for this special holiday meal. By the time the meal ends, we are already looking forward to next year.