Spinach Mushroom Omelet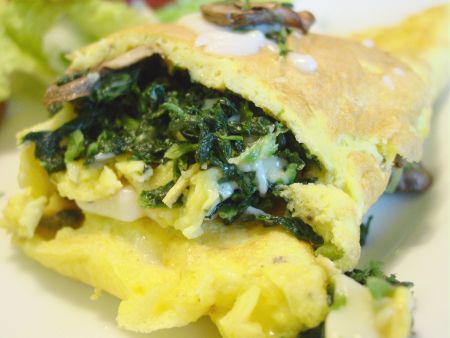 Omelets can be eaten plain or filled with any combination of ingredients—fresh, leftover, or frozen. Once the technique is learned, keeping eggs on hand in the fridge can provide a quick, satisfying, and healthy dinner. Here we use frozen spinach, fresh mushrooms, and mozzarella cheese, since that is what we had at hand. The trick with frozen spinach is to defrost it in the microwave and then squeeze it dry with a ricer! We get an omelet filled with vitamins, protein and flavor.
Ingredients
10

ounces

frozen, chopped

spinach

non-stick

vegetable cooking spray

(Pam)

extra-virgin olive

oil

8

ounces

sliced

mushrooms

salt & pepper

4

ounces

part skim

mozzarella

10

large

eggs
We start by defrosting the frozen spinach in the microwave. We put the frozen block on a microwave safe plate, add a tablespoon of water, cover with plastic wrap, and heat for a couple of minutes until warm. When defrosted, we spray our white plastic ricer with Pam (to try and discourage any staining) and add half of the spinach. We squeeze over the sink and then put the dry spinach in a bowl. We repeat with the remaining spinach.
In a nonstick pan, we add half a tablespoon of oil and heat over medium heat. When hot, we add the mushrooms. We stir occasionally, cooking until browned and tender. We season with salt and pepper and add the spinach.
In separate bowls, we ready the eggs. Each bowl has 2½ eggs, keeping track of which has the extra yolks and which has the extra whites. Our family has a preference for one or the other, otherwise we could have beat the two extra eggs and divided them amongst the four bowls. We add salt and freshly ground pepper to the bowls. We also have ready the sliced mozzarella.
We set the hot spinach-mushroom filling aside on a clean plate and add half a tablespoon of the oil to the pan. When the oil is hot, we whisk one bowl of eggs well and pour into the pan.
Using a rubber spatula, we push the cooked egg toward the center of the pan until the eggs start to set. When the eggs are almost set, we add a quarter of the spinach-mushroom mixture and a quarter of the cheese. We fold the omelet in half, pull the pan off the heat, and wait about 30 seconds for the omelet to finish setting up.
Then we slide the omelet to the edge of the pan, and turn the omelet out onto a warmed serving plate. We repeat this for the remaining omelets and serve with additional salt and pepper.