Robin's Mocha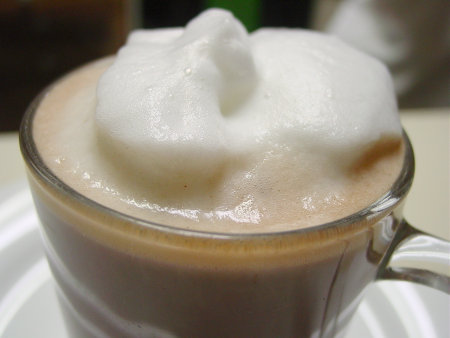 Robin lives on this hot coffee and chocolate beverage—her mocha! Twice a day, almost as a meditative act, she prepares her unsweetened, part decaf coffee, part skim milk, snack. She started making unsweetened hot cocoa when she was pregnant with our first, and it has evolved over the years to include decaf coffee and frothed milk. She does not include sugar, but sugar could of course be added with the cocoa powder.
Ingredients
2

teaspoons

Dutch processed

cocoa

(Droste)

1

tablespoon

water

½

cup

skim

milk

¾

cup

prepared, decaf

coffee
In an 8 ounce microwaveable, glass mug, we combine the cocoa powder and water, without stirring. We cover with plastic wrap and microwave for 20 seconds. We discard the plastic wrap and stir well. We pour the milk in a tall, microwaveable glass. We microwave it, uncovered, for 30 seconds to heat. We add the coffee, which is usually cold and leftover, and about ¼ cup of the skim milk to the cocoa mug. The mug is heated, uncovered, in the microwave, on the beverage setting until hot.
While the mocha heats, we froth the remaining skim milk with our milk frother. The brand of frother that we have does not include instructions, but through trial and error we found that inserting the frother just under the level of the milk/foam and turning the machine on will produce a nice froth in less than a minute.
We top the hot mocha with the frothed milk, a little at a time, as we enjoy our beverage.