Ginger Soy Tilapia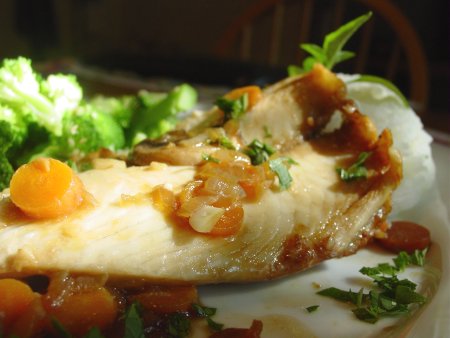 We like this dish because it tastes wonderful and there isn't much clean-up. Tilapia fish fillets are placed in a casserole dish over roasted vegetables, bathed in an Asian-style sauce, and sealed under aluminum foil. This provides both flavor and moistness to this mild white fish, without the extra preparation of making individual "packages" with either foil or parchment paper.
Ingredients
1½

pounds

Tilapia fillets

fish

1

cup

uncooked, Jasmine

rice

2½

teaspoons

vegetable

oil

1

medium

yellow

onion

15

baby

bagged

carrots

4

ounces

white button, pre-sliced and cleaned

mushrooms

1

1-inch piece

ginger

3

cloves

garlic

4

tablespoons

soy sauce

1

tablespoon

toasted sesame

oil

mix of cilantro, mint, thai basil and lemon verbena

herbs

lemon
We start by pre-heating the oven to 450° F. We also get the rice rinsed and cook it according to the package directions. The fish is kept cold in the fridge until we are ready to place it in the baking dish.
Meanwhile, we put a teaspoon of vegetable oil in a nine by thirteen inch glass baking dish. We peel and dice the onion—yielding roughly one cup—and add it to the baking dish. We put the baking dish in the oven.
While the onion cooks, we carefully slice the carrots. After the onion has been cooking for 5 minutes, we add the pre-sliced mushrooms to the baking dish and stir with a heat-safe spatula. Five minutes later, the carrots are added—about 1 cup. We let the vegetable mixture cook for 10 minutes while we prepare the sauce.
Meanwhile, the ginger is peeled and minced, yielding 2 teaspoons. The garlic is also peeled and minced, yielding a heaping tablespoon. In a bowl, we combine the ginger and garlic with the rest of the vegetable oil, the soy sauce and the sesame oil.
About 10 minutes after we added the carrots to the oven, we take the pan out of the oven. We lay the tilapia fillets on top of the vegetables and pour on the sauce. We cover the baking dish (careful, it's hot!) with some aluminum foil and put it back in the oven. It is baked for about 15 minutes until the fish is cooked through.
We serve the tilapia, vegetables, and sauce over rice. To brighten up the plate, we sprinkle with the fresh herbs and a squeeze of lemon.