Red, White, and Blue Cheese Stuffed Burgers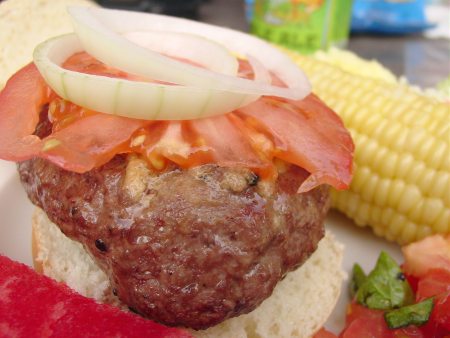 For patriotic burgers, we stuff ground meat with "red" chile powder, "white" onion, and "blue" cheese. The result is a flavorful, cheesy, and spicy burger fit for celebrating the birth of a nation.
Ingredients
18

ounces

ground sirloin

beef

1

onion

(Vidalia)

6

tablespoons

crumbled

blue cheese

¼

teaspoon

ground

chile powder

(New Mexico red)

salt & pepper

3

hamburger buns

1

beefsteak

tomato
We start off by making the stuffing for the burgers. The meat is kept cold in the fridge until it is time to form the burgers.
We halve the onion—peeling and coarsely chopping one half while thinly slicing the other half. With the chopper attachment of our immersion blender, we purée the chopped onion. The purée measures about ¼ cup. We add 4 tablespoons of the blue cheese and the chile powder and purée. We stir in the rest of the blue cheese. The sliced onion is reserved.
We turn on our gas grill and allow it to heat up.
We put the ground sirloin into a bowl and, with clean hands, add a good amount of salt and freshly ground pepper. After mixing the meat and seasonings, we divide it into three balls. We flatten each ball into a good-sized hamburger patty, making a depression in the center. We wash our hands well.
We spoon a little over a tablespoon of the mixture into the center of the burgers—being careful not to overfill. We are also careful to avoid cross-contamination of the raw meat by not touching the spoon to the meat. We set the rest of the puréed mixture aside to be used as a sandwich spread during the week. The burgers are sealed shut with the mixture inside.
We place the patties on the grill and cook on the one side for four minutes. We flip over with a spatula and continue to cook for another 3-5 minutes, depending on how well done we want the burgers. We serve the hamburgers on hamburger buns with slices of onion and tomato.