Arugula Salad with Raspberry Glazed Onions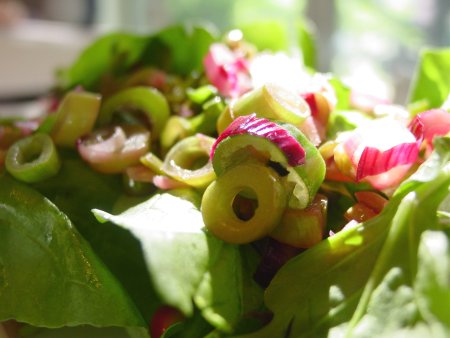 Farmers' market salad greens and spring onions are the stars of this simple salad. The bitter arugula is balanced with the sweet raspberry glazed onions and a nut dressing.
Ingredients
2

cups

arugula

1

cup

red

spring onions

½

tablespoon

extra virgin olive

oil

1

teaspoon

raspberry

vinegar

½

tablespoon

walnut

oil

salt & pepper
We start with the cleaned arugula in a large salad bowl and the chopped onions on the cutting board.
We heat a medium-sized pan with the oil over medium heat. When hot, the chopped spring onions are added. We stir for a few minutes, lowering the heat as necessary. We want the onions to become tender but not browned. Next, the vinegar is added directly to the hot pan (we are careful to stand back from the fumes!).
The hot vinegary onion mixture is tossed with the arugula. The salad is drizzled with the walnut oil and sprinkled with salt and freshly ground black pepper.