Roast Beef with Gremolata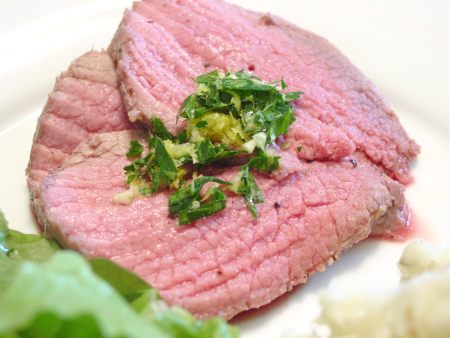 We roast an eye round and serve it with a garnish of parsley, garlic, and lemon zest—a gremolata. It is simple to prepare and with the aid of a remote thermometer, simple to cook. The meat is tender, juicy, and the gremolata adds a nice spring flavor.
Ingredients
We start by preheating the oven to 500° F. We place the meat on a sheet pan with sides and insert our remote thermometer probe lengthwise into the meat to get close to the center. With clean hands, we liberally sprinkle the meat with freshly ground black pepper and kosher salt.
When the oven is preheated, we lower the temperature to 350° F. We place the sheet pan (with the roast and thermometer) into the oven and close the door. We set the thermometer to beep when the internal temperature of the meat is 120° F. This is for rare meat at the center.
We roast the beef for about 40 minutes. Meanwhile, we make the gremolata. On a clean cutting board we chop the parsley and garlic together and then combine them with the lemon zest in a ramekin. We mix with a small fork and set aside until we are ready to serve.
When the meat is cooked to our liking, we remove the pan from the oven and place on top of the stove. We cover the meat loosely with aluminum foil and allow it to rest for 20 minutes.
Using tongs, we move the meat to a cutting board and remove the thermometer. We slice it thinly crosswise and serve with a little of the gremolata. The leftover meat and gremolata are refrigerated (although there isn't much left!).