Caper and Red Wine Vinaigrette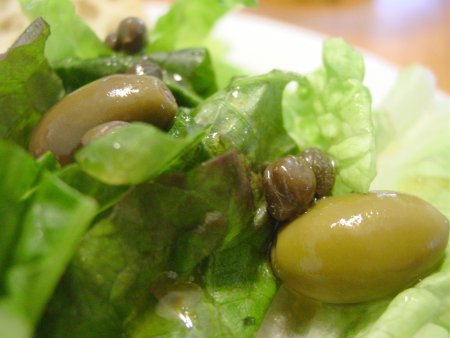 A vinaigrette is so simple and quick to prepare and so easy to vary that we can have a different dressing each night for dinner for quite some time. Tonight we make a mustard-less vinaigrette with some quality red wine vinegar and extra virgin olive oil. We keep with the standard 3 to 1 ratio of oil to vinegar and add some capers for added interest.
Ingredients
1

teaspoon

red wine

vinegar

salt and pepper

1

tablespoon

extra-virgin olive

oil

¼

teaspoon

packed in salt

capers

salad greens

green, Picholine

olives
We combine the vinegar and a small pinch of salt in a bowl and stir with a fork. We add freshly ground black pepper, the olive oil and the capers. Stirring well, we then taste for seasoning on a piece of lettuce.
We stir again, trying to combine well and dress on two portions of salad greens topping with green olives. Leftover dressing is covered and refrigerated.