Zucchini Muffins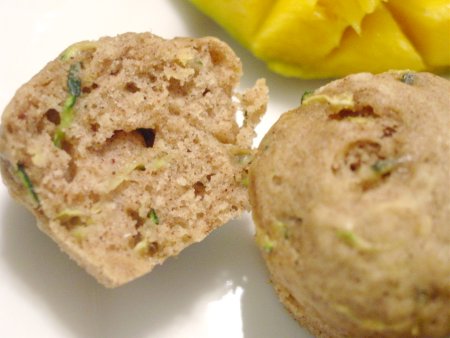 Robin tasted these mini-muffins at a friend's house and had to get the recipe! The muffins are moist, flavorful and easy to make. It is also a way to sneak vegetables into our children.
Ingredients
We start by preheating the oven to 325° F. Into our batter bowl, we crack the egg and whisk until light and foamy. We add the brown and white sugars and stir well. Next, we add the grated zucchini and stir with a spoon.
Into a small measuring cup, we combine the oil and buttermilk and add the vanilla. We mix into the batter bowl.
We put our fine strainer over the large batter bowl and add the flour, baking soda, cinnamon, baking powder, and salt and sift into the wet ingredients. We blend with the spoon until just incorporated.
We spray our mini muffin tin (24 count) with the non-stick spray and then fill 16 of the muffin cups with the batter, using two spoons. We want the muffin cups ¾ full. The remaining 8 empty cups are filled with a little water to keep them from burning and the muffin tin is placed in the oven.
We cook the muffins for 15 minutes and check to see if they are done. They are not quite cooked through, so we continue to cook them for 5 minutes. We want a toothpick inserted in the center of a muffin to come out clean and the muffins to be lightly browned on top.
The pan is removed from the oven and set aside to cool for a few minutes before removing the muffins to a wire rack to cool completely.