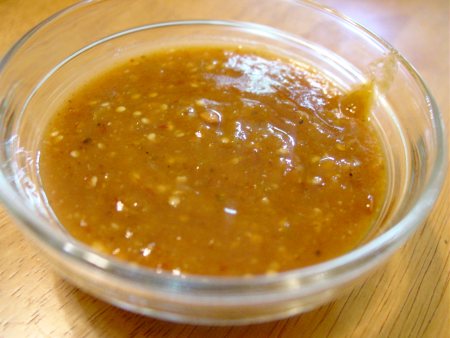 We often have different bottled salsas and hot sauces in the fridge. We love the flavor and heat they add to almost any dish. However, the storebought cannot compare to a homemade salsa's intensity and freshness. By simply combining canned spicy chipotle chiles with citrusy fresh roasted tomatillos and soft roasted garlic, we get a fantastic and simple to prepare salsa. Double the recipe for a larger party!
We start by preheating the broiler with the rack a few inches below the elements. Our cast-iron skillet is also preheated over medium heat.
The tomatillos, one at a time, are de-husked with clean hands, rinsed, and patted dry. We place them on a foil-covered sheet pan with sides. When the broiler is hot, the tomatillos are cooked for 5 minutes under the broiler. We want one side to soften and blacken slightly. They are turned over with tongs and cooked on the other side for another 5 minutes. The sheet pan is removed from the oven, set aside to cool, and the broiler turned off.
Meanwhile, we place the garlic, still with its peel, in the hot cast-iron skillet for a few minutes. Sometimes we roast the garlic alongside the tomatillos in the oven, but it is easier to control their doneness on top of the stove and we will use the garlic-infused pan for our dinner anyway! When the garlic cloves start to blacken, we turn them with tongs. We want the garlic softened inside and the peels to darken and nearly come off. This takes about 12 minutes altogether.
When the garlic is roasted, we remove it to a cutting board and let cool for a few minutes. The peels are removed and the garlic is coarsely chopped.
We put the cooled roasted tomatillos (with as much juice as we can get from the foil-lined sheet pan), the chopped garlic, and the chipotle chiles in the chopping attachment to our immersion blender. We blend until nearly smooth and then add a ¼ cup of water to thin slightly.
We add a pinch of salt and transfer the salsa to a bowl. We taste for seasoning and then store the cup of salsa covered in the fridge until we are ready to use throughout the week.