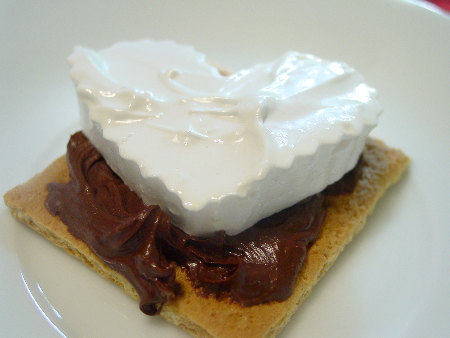 Robin has been interested in making homemade marshmallows for years—ever since reading a recipe in an early Martha Stewart magazine article. They are not difficult to make with the help of a thermometer and a mixer. The marshmallows are delicious (no matter the shape), plain, in hot cocoa, or in s'mores!
We start by pouring 1/3 cup of cold water into the bowl of our KitchenAid mixer with the whisk attachment. We carefully open the packets of gelatin and sprinkle them on the water.
While the gelatin softens, we place the sugar, corn syrup, salt, and the other 1/3 cup of water in a medium pot. Without stirring, we cover and bring the mixture to a boil over medium-high heat. After a few minutes, the mixture is boiling. We remove the lid, and place our candy thermometer into the pot. We cook, stirring the pan carefully with the thermometer, until the sugar mixture reaches the soft ball stage—238° F.
We turn the mixer on stir speed and carefully add the soft ball staged syrup to the bowl. When all the syrup is added, we raise the speed, to speed 4, then 6, then 8, and finally all the way to high. We beat this mixture for about 5 minutes—until it is thick, white and three-times its original volume.
While the mixture is beating, we ready the cookie sheet. We spray it with vegetable spray, cover with a 12 × 14 inch piece of parchment, and then spray again. We also spray an offset spatula with the vegetable spray.
When the marshmallow mixture is ready, we lower the mixing speed to stir speed and add the vanilla. After a few seconds of mixing, we turn the mixer off and spread the mixture onto the parchment covered cookie sheet with the offset spatula.
We leave the marshmallow mixture for 3 hours, uncovered, to dry.
We spray a 2 inch heart cutter with vegetable spray and begin to cut out the marshmallows. They are very sticky and a sprinkling of confectioners' sugar helps to keep them separate. We store the marshmallows in airtight containers.