Pan-Fried Fish with Potato Crust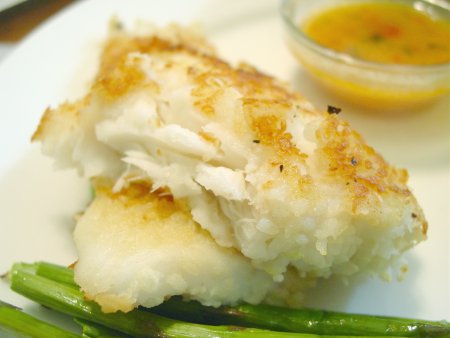 We have coated fish fillets with different crumbs and flours before, but tonight we coat them with instant mashed potatoes! It is a good use for the instant potatoes—of which we are not too fond for mashed potatoes (preferring
Grandma's recipe
)—the potato flavor is nice in conjunction with the moist and buttery fish fillets. We serve the finished fillets with a leftover scampi sauce, but melted plain butter or just a squeeze of lemon would be delicious.
Ingredients
1.30

pounds

Cod, frozen, 4 fillets

fish

1

cup

instant

potato flakes

salt & pepper

1½

tablespoons

Grapeseed

oil

1

tablespoon

unsalted

butter

1

medium

lemon
We start by preheating the oven to 425° F. We also preheat our large seasoned cast-iron pan over medium heat and get a parchment covered cookie sheet ready.
We pour the potato flakes into a shallow bowl. We rinse the fish fillets and pat dry with paper towels. We press each fillet into the potato flakes, coating each on both sides. We sprinkle them with salt and pepper and then wash our hands well.
When the pan is hot, we add half of the oil and half of the butter. We place two of the coated fillets into the pan. We cook for a couple of minutes and then carefully flip the fish over with a heat-safe spatula. We continue cooking for a couple of minutes and then remove to the cookie sheet.
We add the remaining oil and butter to the pan. The remaining fillets are cooked in the same manner and, when browned, are placed on the cookie sheet.
We put the fillets in the oven for five minutes until cooked through. We serve with lemon slices and a butter sauce.